What is Millionaire Match
As the Internet's leading rich men dating site, Millionaire Match is the best luxury dating website in the world. Now we'll find out how to use this platform for the best results.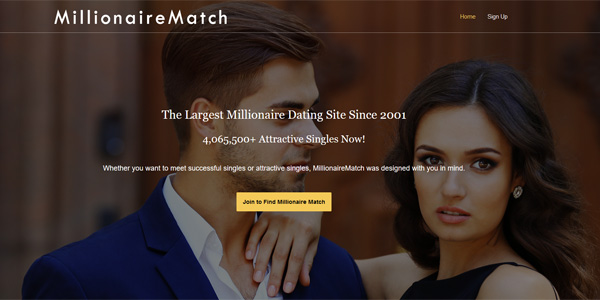 What is a Certified Millionaire?
MillionaireMatch has an important feature - Certified Millionaire. That means MillionaireMatch.com can verify a rich guy's dating profile and financial status. In order to become a Certified Millionaire, a rich man must have a complete profile on MililonaireMatch with a clear photo which is posted as his profile picture. Also, only a premium member can apply for this verification. Then this millionaire man should send his bank statement or tax return to Millionaire Match so that this luxury dating site can see this wealthy guy's annual income is more than $200,000 on his tax return document. Alternatively, a millionaire guy can send his bank statement to Millionaire Match - as long as his bank statement shows that he has made over $200,000 in the current financial year, that will verify his financial status. Of course, we understand that not every wealthy man has to work (he might be a trust fund baby). In this case, he can send documents which prove his net asset (at least $1,000,000 after all liabilities are deducted). Last but not least, Millionaire Match needs to see the rich man's ID, e.g. passport, driver's license, etc. By the way, a rich member is able to renew his Certified Millionaire status if his documents are outdated. Once a rich member's financial status has been verified, his dating profile will have a purple diamond on it - this will attract more attention from beautiful members.
How do I delete my Millionaire Match account?
This is actually very easy to do. First of all, you can log on MillionaireMatch.com on a computer and go to "my settings". Next, click on "other membership service" and you'll see "hold profile". After that, simply click on "delete account" and enter your password again & click on "continue cancellation". Finally, you will select a reason for cancellation and click on "continue cancellation". Then you will receive an email which tells you your account on MillionaireMatch.com has been deleted permanently. Please note that this millionaire dating site doesn't store any previous members' information, so you know you are in good hands.
How can I make my dating profile stand out from the crowd?
On MillionaireMatch, there are a large number of high-value men and gorgeous women. Therefore, the competition is real. But there are some strategies that will help your profile get more views. First and foremost, in order to stand out, your dating profile must be outstanding. In other words, if you are a rich member, you'd better become a Certified Millionaire because with a purple diamond on your dating profile, your profile will get 20 times more views than your competitors' profiles. If you are an attractive member, you have to upload as many photos as possible and make sure all your photos are professionally done. That is to say, you might want to invest in your profile photos by hiring a professional photographer who can take very good photos for you. Here is our suggestion: You should have at least three types of photos - photos that show your face clearly, photos that show your figure clearly in body-con dresses, and photos that show your glamorous aspects in an evening dress. In this way, a rich man will know you look truly pretty, you have a hot body and you will make him look good if he takes you out for parties and functions.
Now you are very well-informed in terms of how to use MillionaireMatch.com effectively to find a rich man or a hot woman. Congrats!